Welcome to our community!
Feel free to add items to our marketplace, subscribe to groups and authors.
Also follow our
Instagram
!
​Italian Charm by Integrity Toys – New Doll Presented
Sunny and bright are the words that may remind you of warm summer. But there is also a doll that will definitely take you to this colorful season. This doll is so bright, beautiful, sophisticated, and she is "peppery" for sure.
Vanessa Perrin shows her Summer in Taormina.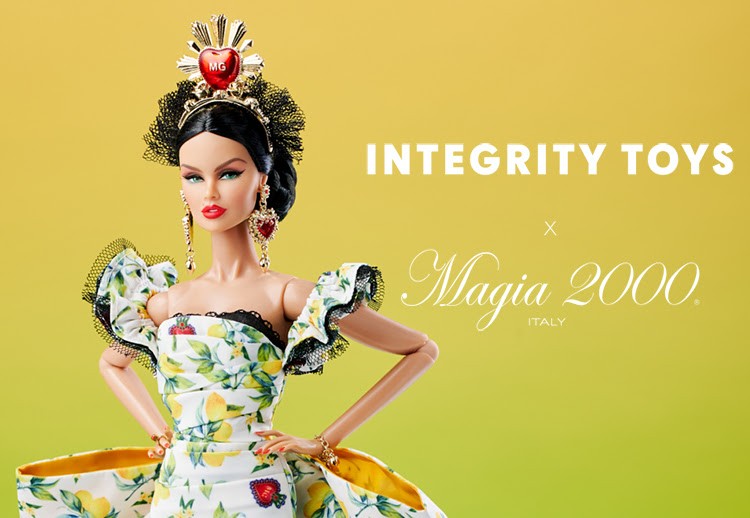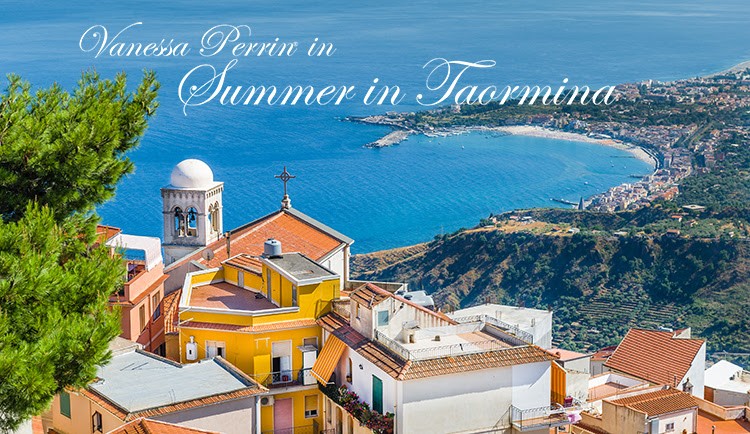 Her outfit is just a masterpiece! It is well designed and represents a culture and character of Italy. Taormina is one of the most favorable places in Italy, so that top model Vanessa visits this amazing place wearing this symbolic gown. This is a cocktail gown and it has amazing lemon print. This is Italian couture, Magia 2000 celebrating its 23 years in the doll industry.
Mario Paglino, the designer, and Gianni Grossi, graphic art director, visited Integrity Toys Convention in 2004 for the first time, and won awards at several competitions. In 2018 they presented "Ciao!" Poppy Parker in collaboration with Davit Buttry.

Now we may enjoy this day-to-night gown as it has a detachable train. Lemons are grown on this island, and a red heart (which is also seen on the gown) means a devotion of the residents. The gown has black ruffle. In fact, this is a black petticoat.
Massive earrings in the shape of heart and a black purse decorated with lemons and a heart – one design is followed in this outfit.
Vanessa has black (rooted) hair, red lipstick and a cute little mole near her lip. She is breath-taking!
The doll also includes a red ring, gold chain bracelet, two pairs of shoes (black high-heeled shoes and red platform shoes with lemons), sunglasses, amazing tiara with "sacred heart", extra pair of hands, a doll stand and authenticity certificate. This outfit is full-packed!
The cost of the doll is $225.
This doll is specially created for the Integrity Toys, and she is the second doll in this series. Each doll will take you to exotic and iconic places in Italy.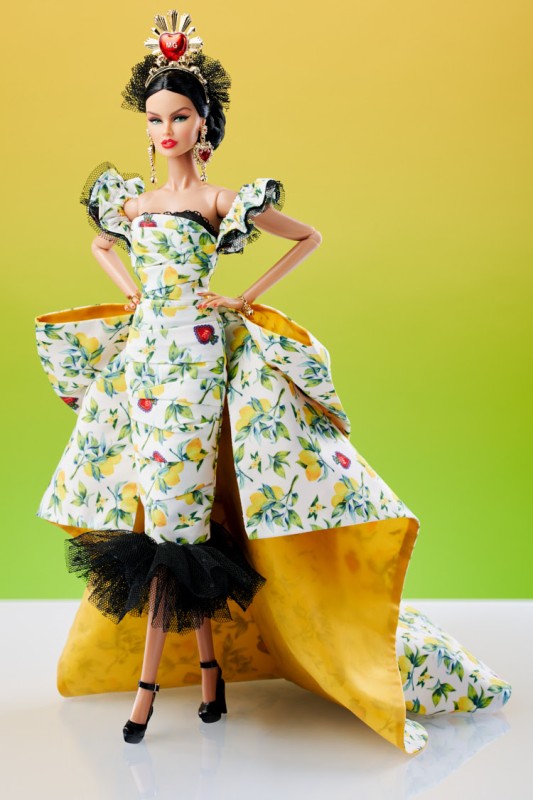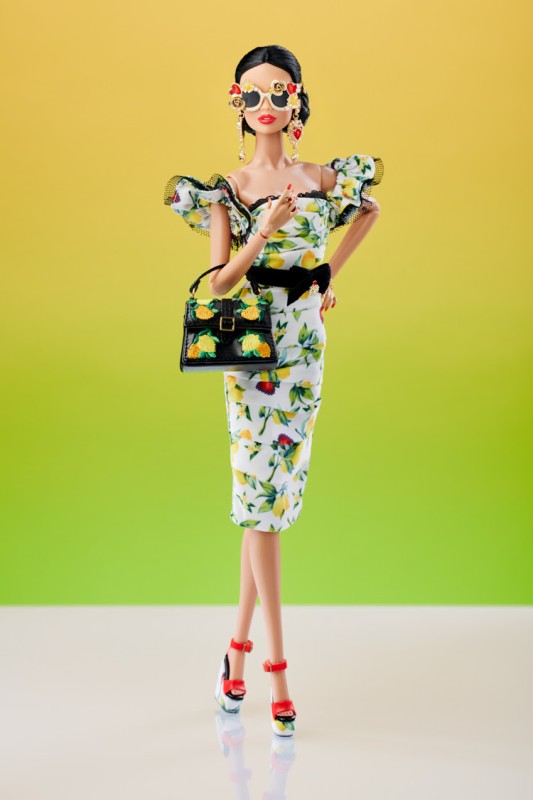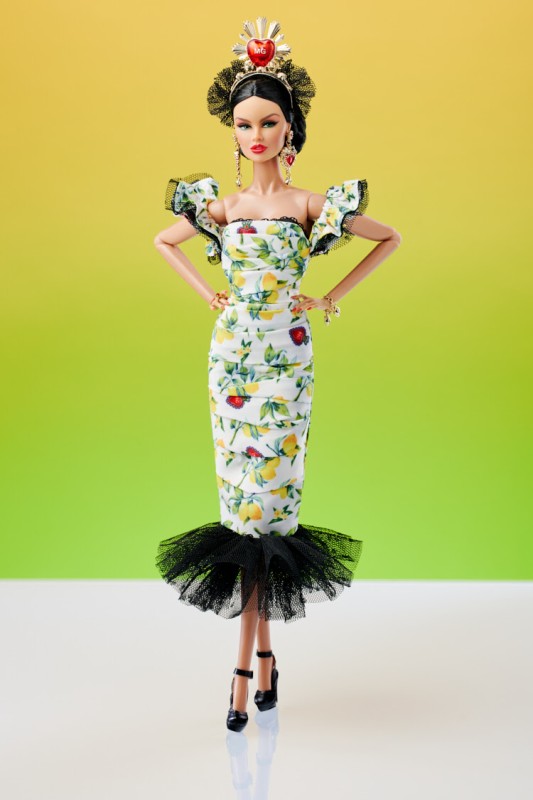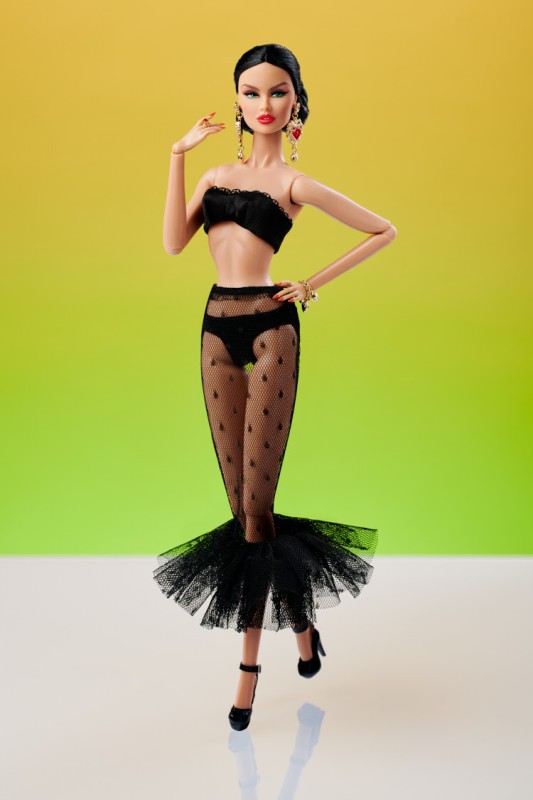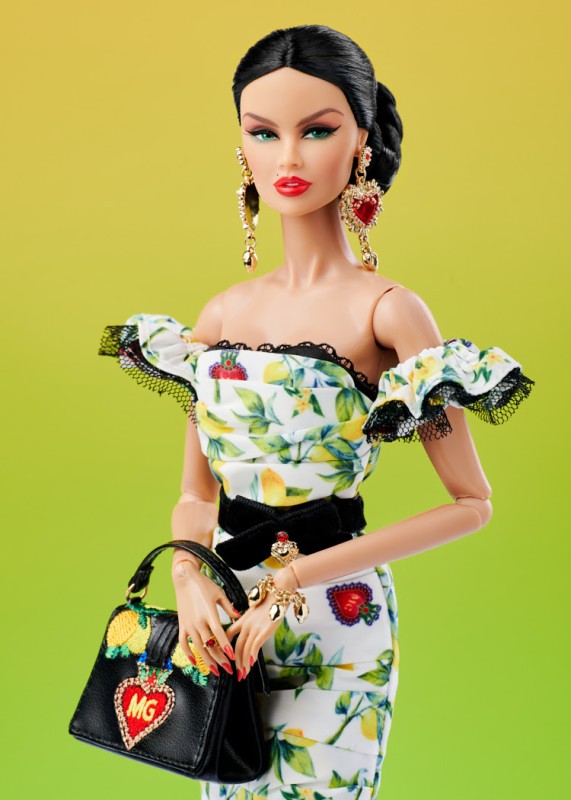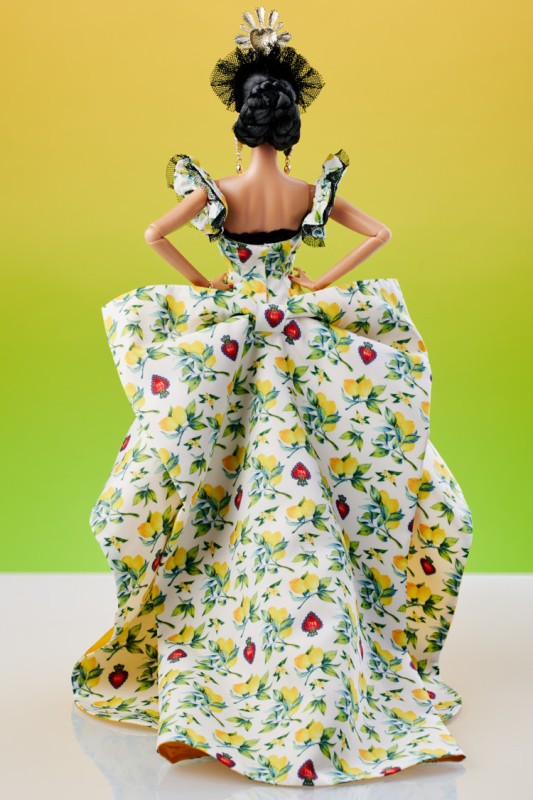 Item #15107Summer in TaorminaVanessa Perrin® Doll

The Integrity Toys X Magia 2000

Collaboration

Edition Size: 1500

Expected Ship Date: Winter 2022 — Spring 2023

Head Sculpt: Vanessa 3.0
Body Type: FR 6.0
Foot Sculpt: High-heeled

Skin Tone: Hungarian

Hair Color: Raven/Black

Eyelashes: Yes, hand-applied