Welcome to our community!
Feel free to add items to our marketplace, subscribe to groups and authors.
Also follow our
Instagram
!
My Ava (repaint Avantguard)
I remember how I saw this picture for the first time. I was amazed by charisma and beauty of this doll. I just started to collect dolls at that moment.
There were mostly Tonner dolls in my collection. But this doll was another. I was constantly looking at these pics and I wanted this doll to have in my collection. I was possessed with her. It was OOAK Avantguard. And it means that she was in a single copy and was expensive. But I know if you want something badly and believe in it, the dreams come true.
.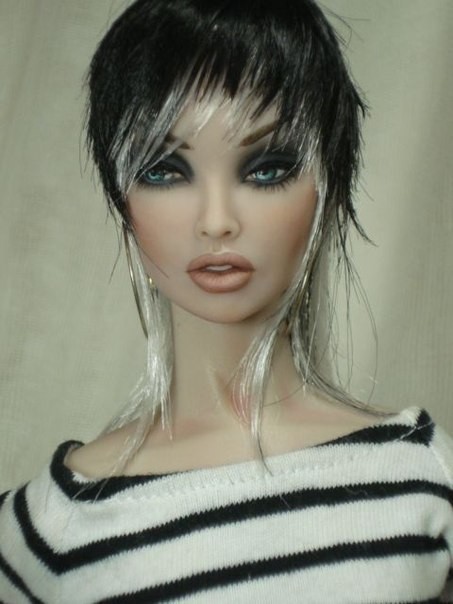 Somehow, magic happened, the doll chose me.
This is the first picture I took when she arrived.

As you see, she does not have her extravagant provocative wig, but she is beautiful just like on the picture by makeup artist (I read this inscription on the buttock of the doll dated 2012).
I liked the body Avantguard. It was slim and more flexible compared to Tonner's dolls. The articulated hands also impressed me. This feature makes her more poseable and realistic. I bought some outfits and other wigs for her later on. Wearing them she looks stunning and elegant. This is the brand outfit from Avantguards no Exaggeration doll and Bijoux wig.
She is very photogenic, and any model would envy her. I will show her pictures in other outfits. And for now, I will leave you enjoying these pics.
.