Welcome to our community!
Feel free to add items to our marketplace, subscribe to groups and authors.
Also follow our
Instagram
!
Jem and Holograms New Gift Set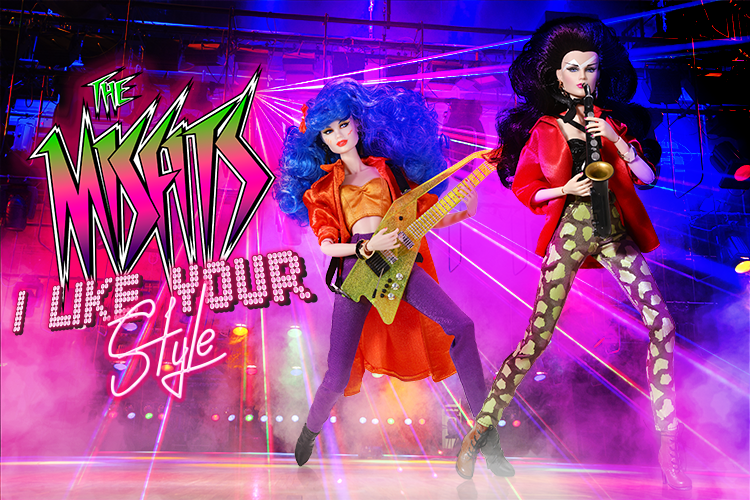 I like your style! – this may be a rather good compliment phrase. But it is also a good name of the new gift set! The Integrity Toys have presented their new dolls. Moreover, this is a collaboration with Hasbro, and it is devoted to the Jem and the Holograms 35th Anniversary collection!
This new gift set is inspired by the 80s TV series, and it can be tracked in everything: clothes the dolls wear, accessories, and even package. The design of the package is just insane: bright and rich! This artwork originates from the toy line in 1980s. Each doll will have her own box.
Now let's move to the dolls. Meet hardcore lyrics style with singer/songwriter Mary «Stormer» Phillips and Jetta Burns, a tax player. This is "Misfits". These girls will definitely rock you out!
Their outfit is really stunning and reflects their mood and style. Blue and black hair is well combined with bright clothes, and it even more emphasizes their outrage. By the way, the hair is rooted.
A rave of colour is what will catch your eyes! Mary wears orange satin blouse with purple jeans, yellow bustier, and black high-heeled shoes. She also wears bracelets, belt, earring and a red bow. The doll will come with yellow guitar, shoulder straps, two pairs of hands, and neon pink acrylic doll stand.
Jetta wears red satin blouse, black bustier, and fashionable giraffe print jeans. Her brown boots match the belt. She also wears earrings, a bracelet, and a scarf. The doll will come with black saxophone, a doll stand and two pairs of hands.
Their outfits looks stunning and realistic! The cost of the gift set is $290. The available number is 600 dolls.
The pre-order will start on April, 29. The shipment is expected on late June
Item # 14106

I Like Your Style

Mary «Stormer» Phillips™ and Jetta Burns™ Two-Doll Gift Set

Adult Collectible

The JEM AND THE HOLOGRAMS® 35th Anniversary Collection

Edition Size: 600

Expected Ship Date: Late June 2021

MSRP: $290.00 + Shipping & Handling

Special Members-Only Price (During IT Direct/Google Form Sale Only): $240.00 + Shipping & Handling (payable in two installments of $120 each, with shipping being due with the second installment).

Head Sculpt: Jetta 1.0 / Rapture 1.0 (Stormer)

Body Type: CI/JEM V. 1.5

Skin Tone: Japan (Both Dolls)

Hair Color: Black (Jetta), Electric Blue (Stormer)

Eyelashes: Yes, Hand-applied

Quickswitch: No