Welcome to our community!
Feel free to add items to our marketplace, subscribe to groups and authors.
Also follow our
Instagram
!
Blue and Glamorous Doll from 70s – New Barbie Signature Doll
Glam Goes Bespoke – a new doll in the Barbie Signature Collection. It is bright, fresh, retro and fabulous! Bright makeup with blue shadows and lipstick, pink cheeks and red hair, blue suit and necktie – some of you may have already guessed this character.
David Bowie is a popular star of the 70s. He is still a well-known person, and this year his album celebrates 50thanniversary. This blue suit is seen in the music video "Life on Mars?".The suit has rich bright blue color. The Barbie doll, Hunky Dory also wears a shirt which has foil-printed stripes.
The necktie has unusual print. There are painted fingernails, and one hand has blue nail polish, and the nails on the other hand are pink.
Brown platform shoes complete the entire outfit. The designer of the Barbie doll is Linda Kyaw-Merschon, and this is a truly inspirational tribute to Bowie.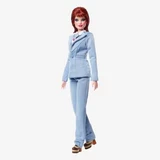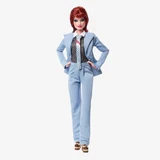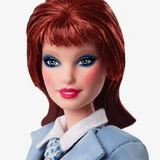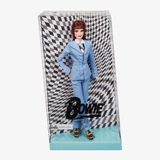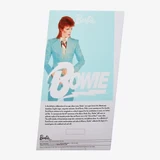 The doll will come with a doll stand. The cost of the doll is $50.