Welcome to our community!
Feel free to add items to our marketplace, subscribe to groups and authors.
Also follow our
Instagram
!
Helen Kish Little Red Cap Doll
I liked fairy tales in childhood, just like other kids. But when I grew up, I still like it. I still have passion for dolls, and I still like fairy tales. Therefore, it is a pleasure for me to add hero dolls from fairy tales to my collection. Today I would like to show you Red Riding Hood by Helen Kish. 
Helen Kish 2007 Little Red Cap Doll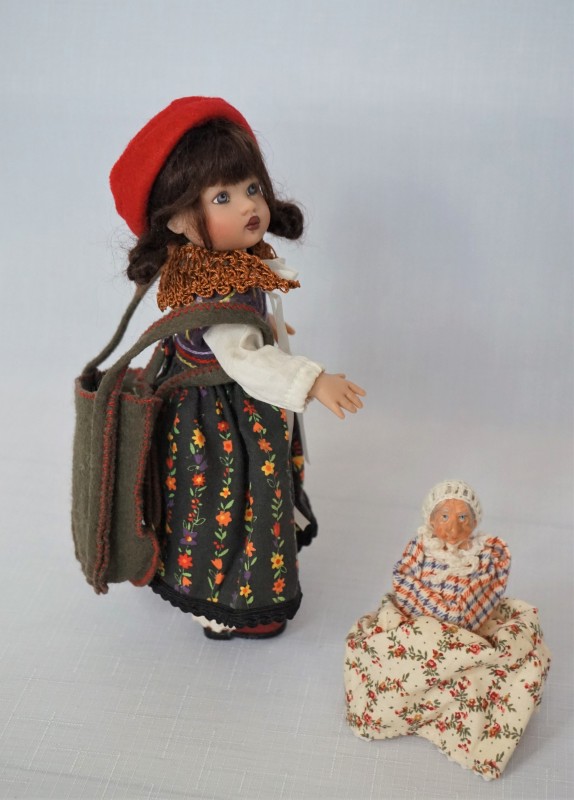 This little doll is 7,5 inches tall. The doll is made of hard plastic, and has jointed elbows and knees. Riley has brunette hair with bangs (it is a wig), and her brown eyes look bright. The costume is well-made and has beautiful jumper with purple bodice. Her long under-dress is cotton, which perfectly matches her cotton skirt. The floral pattern on the skirt is wonderful!
Riley wears black boots with buttons. And of course, there is a little red felt cap covering her braids. She has a knapsack, which may be full of delicious snacks for granny, right? Butyou are wrong, the knapsack has a topsy-turvy doll. One doll is Granny, and the other one is Wolfie. These dolls are made of resin and have cloth body.