Welcome to our community!
Feel free to add items to our marketplace, subscribe to groups and authors.
Also follow our
Instagram
!
Linda Macario Dolls - ​Porcelain Little Red Riding Hood
Do you have your favoutire fairy tale? Well, we may assume that the Little Red Riding-hood story may become your favourite right after you see this new amazing doll by Linda Macario Dolls.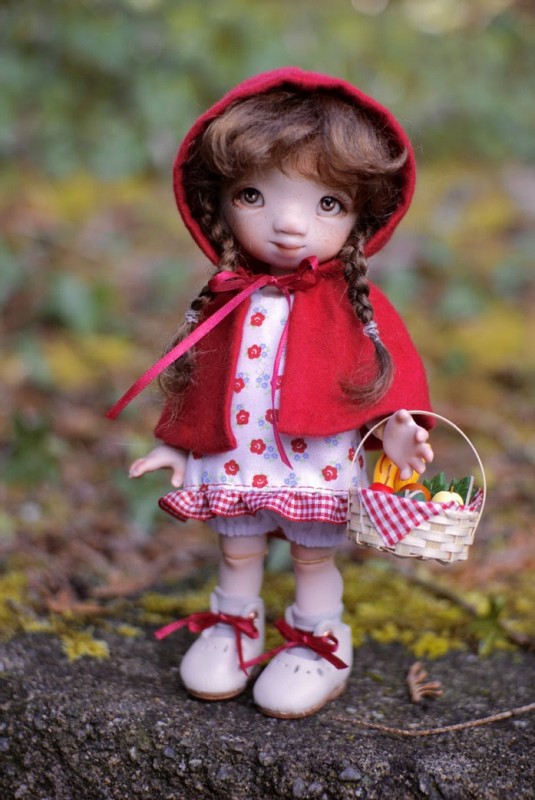 This new porcelain doll is available for the order. There will be 4 of them in this fairy tales collection. The characters will be different.
This one has hand painted eyes that look so realistic and cute. They look big on her little face with freckles. By the way, she has freckles on her shoulders and neck as well. The color is permanent as the author uses China paint techniques.
Her outfit is made of quality materials: white Italian leather shoes, a cotton dress with flower print, socks and, of course, red flannel hood. It fits her well and her brown hair with braids. Every detail is made with love and care.
By the way, the doll will come with this amazing basket full of fruit. She will be also packed into a signed box and come with wooden doll stand. The height of the doll is 7,5 inches. The body has 14 joints. The joints have real leather for better movement.
The doll costs $750.
And now, we are wondering what characters will be next? What is your favorite fairy tale now?