Welcome to our community!
Feel free to add items to our marketplace, subscribe to groups and authors.
Also follow our
Instagram
!
Pre-order of New Engendrito by Irrealdolls
Irrealdolls have shared their excited news. Meet new Engendrito, named Mim. Irrealdolls have kept her in secret due to different events in the year of 2020. And now they are happy to show you this amazing doll.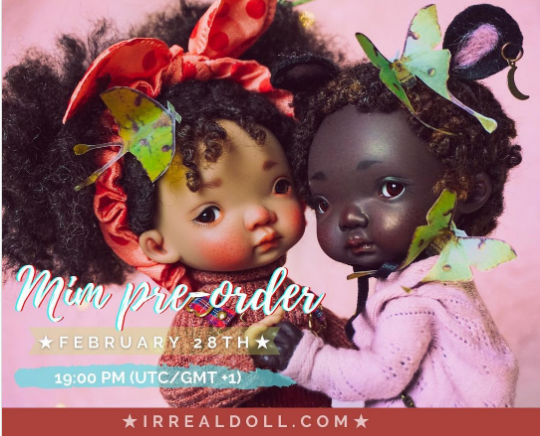 The designers have been inspired by a moth species inhabiting mainly South Africa, and they are called as Mimosa Argema. And so name Mim came up. Mim is a representation of South Africa, as every Engendritos belong to certain country.
Two skin tones are available: light and dark one. Moreover, it is the darkest skin tone Irrealdoll have ever used. But it looks very pretty and stunning.
There is little information about the dolls yet: the doll will come with glass eyes, special onesies, and also authenticity certificate. More details will be available soon on their official website.
But looking at the picture we may say that they will have very curly and soft hair, and cute head bandages.
The pre-order will begin on February, 28th, at 19:00 PM (UTC/GMT +1 timezone). The shipment will be in 6 moths after the end of the pre-order.
We cannot wait to see more pictures of Mim on Sunday!