Welcome to our community!
Feel free to add items to our marketplace, subscribe to groups and authors.
Also follow our
Instagram
!
​GRANADO Winter Event – Male & Female Realistic Dolls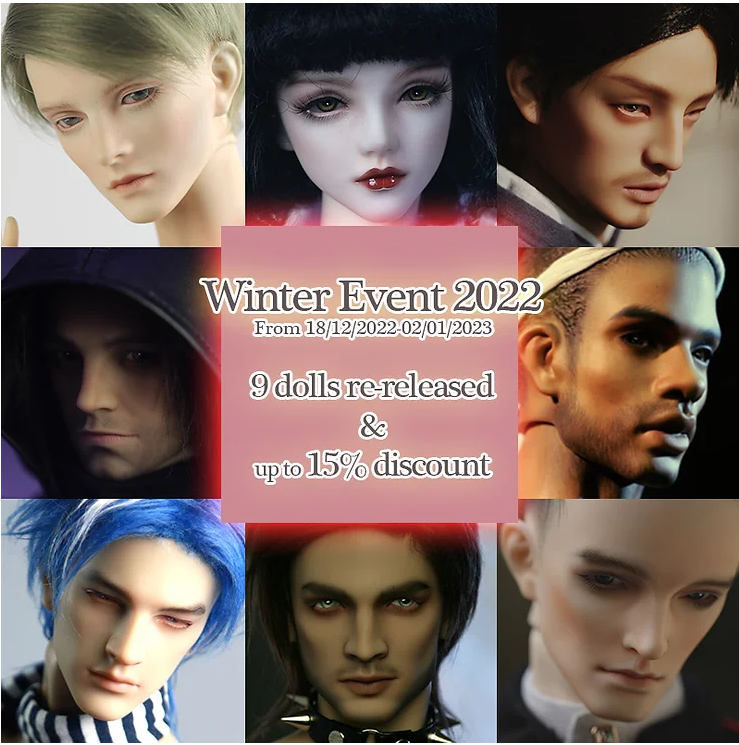 .
Winter events are full of joy, magic, and happiness. And they can be full of dolls! Granado have announced about their Winter Event 2022 where they have returned some of dolls, and presented 9 dolls in total.
It has been started  on December, 18th. Every doll is a very good looking and realistic. All dolls are completely handmade by Crocus. The height of the doll is 30 cm, and it is very poseable.
The variety of skin tones and other options are impressive! There are 11 skin tones available for the doll. Different types of bodies may be also selected. For instance, Male embody or Male body Zen, or 31Vigo, or Male body 70Adagio, and others.
The doll may have a makeup, and the eyes may be closed or open for some dolls. It is up to a customer.
As we have mentioned, Granado presented 9 dolls: Jane, Galileo, Raguel, Mars, Uriel, Michael, Gabriel, 30Galileo, and Garden. All of them are young and beautiful. Well, Gabriel is just a mystery guy who does not tell his age, and some say that he is 50 but he looks very young! What do you think how old is he?
Each doll has his/her own story. An actor, chief financial officer, Muay Thai master, talented musician, and even assassin – every story is very touching and inspirational. Also, they all have different nationality.
The cost of the doll starts from $170, and other options may be included per extra price: these are outfits, hair, makeup, extra hands, skin tone, and others.
This Winter Event will last till January, 2nd, 2023. The shipment should be performed within about 70 days after the payment.