Welcome to our community!
Feel free to add items to our marketplace, subscribe to groups and authors.
Also follow our
Instagram
!
Kish & Company Riley's World Collection — Debut Kiley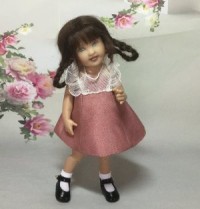 Condition description:
excellent condition, one hair tie defective
7.5" Debut Kiley doll by Helen Kish Limited to 300 dolls worldwide. A new face in Riley's World is 'Kiley', widely thought to be Riley's globe-trotting cousin. At 7.5", 'Kiley' debuts wearing a mauve silk dress with princess lines and a delicate bodice and shoulder frills of cotton tulle. Her bloomers are mauve silk and lace. On her feet are white socks and black mary jane shoes. She smiles sweetly, with blue eyes twinkling in her dark brown mohair wig with bangs and looped braids. Kiley has articulation in her knees and elbows.
In 2009 she was a Kish Club doll