Welcome to our community!
Feel free to add items to our marketplace, subscribe to groups and authors.
Also follow our
Instagram
!
Tonner Miss Melly Hamilton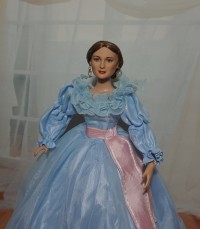 Condition description:
Excellent condition, without the straw bonnet
Miss Melly Hamilton from Robert Tonner's Gone With The Wind collection, This is Melanie as Scarlett met her at the Twelve Oaks Bar-B-Que.
portrait doll Olivia Havilland
BW Body
LE 500
Pale skin tone
Melanie's gown is sky blue taffeta and organdy, with rows and rows of ruffles. The very full skirt is held out by a white tulle petticoat. The bodice is closely fitted with more ruffles and full sleeves.
The bonnet is lined in ruffled lace. On her hands, Melanie wears little black finger-less gloves; on her feet are blue leatherette high heel pumps.
Without the straw bonnet.
Without box