Welcome to our community!
Feel free to add items to our marketplace, subscribe to groups and authors.
Also follow our
Instagram
!
Runway in Milan Colette Duranger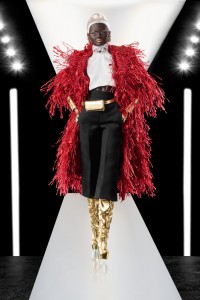 Condition description:
NRFB
Colette Duranger is a rising star in the fashion world, and her appearance on the Milan runway has set the fashion scene abuzz. Her stunning looks and effortless style make her a favorite of designers and fashion enthusiasts alike. Magia 2000's tour of Italy has brought Colette to the forefront, showcasing the best of Italian fashion. Her mini «day-to-night» wardrobe is the perfect inspiration for those looking to elevate their style. As Colette continues to make waves in the industry, it's clear that she's a force to be reckoned with and one to watch in the world of fashion.
Included:
12.5-inch articulated doll with rooted hair;
Black gabardine high-rise culotte pants;
White satin sleeveless cropped top with rhinestone neckline;
Over-the-top jacket with feathery «lashes»;
Mesh sleeveless cropped top with applied rhinestone deco (can be worn alone or as an overlay with the satin top above);
Glittery micro-sequined mermaid skirt;
Golden belt with matching, detachable purse;
Golden chrome ruched «leather» high-heeled boots;
Pair of golden chrome chunky heel shoes;
Oversized sunglasses with Magia 2000 carry case;
Magia 2000 black mesh tote;
Drop faux-diamond earrings;
Chunky cuff bracelet with matching faux-diamond accent;
Golden signet ring;
Pair of manicured hands;
Alternate pair of golden chrome «gloved» hands;
Doll stand;
Certificate of authenticity.