Welcome to our community!
Feel free to add items to our marketplace, subscribe to groups and authors.
Also follow our
Instagram
!
Poppy Parker Loves Mystery Date Bowling Date 2 Doll Gift Set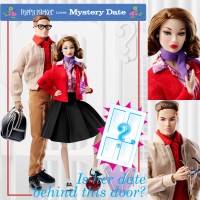 Condition description:
NRFB
Item # 77203
Bowling Date
Two-Doll Gift Set
Poppy Parker® Loves Mystery Date™
Adult Collectible
Edition Size:
2000 Gift Sets
Expected Ship Date:
Mid-to-Late Summer 2022
Head Sculpts: Poppy Parker and Cabot Clark (Bowling Date) OR Kieron Morel (mystery Stud figure)
Body Type: PP 1.5 and FR Homme 1.5
Poppy Foot Sculpt: Articulated Ankle Feet
Skin Tone:Japan (Poppy) and FR White (Bowling Date) OR FR White (Stud)
Hair Color: Brown (Poppy) and Dark Auburn (Bowling Date) OR Black (Stud)
Eyelashes: Yes, Hand-applied (Poppy only)
Sales method: This is being sold to W Club members via a W Club right-to-buy lottery offer. Should any product remain after fully placing the lottery, it would then be made available to the public and for purchasing extras at the MSRP.
NRFB set 2 dolls